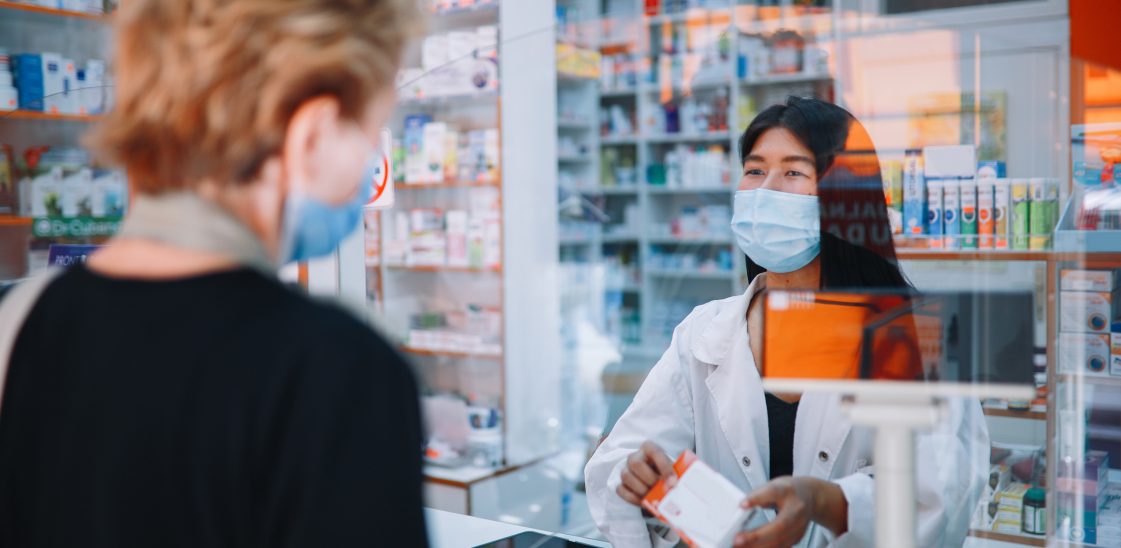 What can you speak to a pharmacist about?
Often, visiting a pharmacy is more convenient than going to your GP. Pharmacies often have longer opening hours than GP surgeries during the week, and they are typically open at weekends too. Also, you don't have to make an appointment. You simply go when you want. But what exactly can you speak to a pharmacist about? Here, we take a look at the types of conditions you can discuss with these medical experts and the services they provide.
How can a pharmacist help me?
As qualified healthcare professionals who have trained for at least five years in the use of medicines and in managing minor illnesses, pharmacists can help you with a wide range of health issues. You can ask them about many ailments and injuries and they will either be able to assist you directly or recommend that you speak to your GP or another specialist.
For example, pharmacists can offer clinical advice and various medicines for illnesses such as sore throats, coughs, colds, aches and pains, skin rashes, hay fever, head lice, cystitis, thrush, stings or bites and tummy problems. Pharmacies also dispense NHS prescriptions, provide repeat prescription services (with the agreement of your doctor), dispose of unwanted or out-of-date medicines and in certain circumstances can provide emergency supplies of medicines. They offer advice on treating minor health complaints and on healthy living too.
Can a pharmacist prescribe medication?
There are strict rules governing the types of medicines that pharmacists are permitted to offer. In general, they can't prescribe medicines in the same way as doctors can. However, as of 2006, pharmacists have had the option of completing additional training to become pharmacist independent prescribers (PIPs). This allows them to prescribe medication for conditions that they are clinically competent in. The system of PIPs was brought in to help reduce pressure on GPs.
Also, in emergency circumstances, pharmacists may be able to offer certain prescription drugs. For example, if you run out of a prescription medicine and don't have your prescription with you, a pharmacist may be able to provide you with a short-term supply. Firstly, they will assess you to find out if you need the medicine immediately and they will ask who previously prescribed the treatment to make sure they are a trusted source. They will also need to establish what dose of medicine is appropriate for you to take. If you have it, take an old prescription or the empty medicine packet from your last supply with you to the pharmacy. The pharmacist will need to be satisfied that they have all the relevant information before they will supply prescription-only medicine in an emergency.
Can a pharmacist prescribe antibiotics?
In most instances, pharmacists can only prescribe antibiotics if they are PIP qualified. However, there are exceptions to this. For example, these medical professionals can supply certain antibiotics if individuals are under a patient group direction (PGD). A PGD provides a legal framework for some registered health professionals to supply specific medicines to a pre-defined group of patients without these patients having to see a prescriber such as a doctor. This can apply to conditions such as eczema, urinary tract infections and toddler conjunctivitis.
Many pharmacists are also able to prescribe antibiotics for strep throat. We will go into more detail about this later in this blog.
Can a pharmacist give medical advice?
As touched on previously, pharmacists are qualified to give medical advice on a wide range of common illnesses and injuries, ranging from sore throats to rashes, earache and cystitis. Also, you can go to a pharmacy for advice if you are just starting on a new medicine for asthma, type 2 diabetes, high blood pressure or chronic obstructive pulmonary disease, or if you are starting a new blood-thinning medicine.
Can pharmacists test for strep throat?
Many pharmacists have now received extra training to allow them to administer as-you-wait swab tests for strep throat, a bacterial throat infection. If you go to one of these pharmacies with a sore throat, take the test and it comes back positive, you will be offered a course of antibiotics. If the test is negative, the pharmacist may recommend other medicines that can help to ease the discomfort, such as sore throat lozenges. This testing service was set up to relieve pressure on GPs and to reduce the number of patients who were being prescribed antibiotics for sore throats that were not caused by bacterial infections.
Can a pharmacist treat tonsillitis?
Tonsillitis is usually caused by infections such as colds or the flu, which tend to resolve themselves fairly quickly, often within three to four days. However, there are treatments you can take to help ease the discomfort in the meantime. Your pharmacist can give advice on what to do and suggest treatments such as throat sprays and lozenges.